Organisez le casse du siècle dans l'incroyable machine à sous Take the Bank de Betsoft !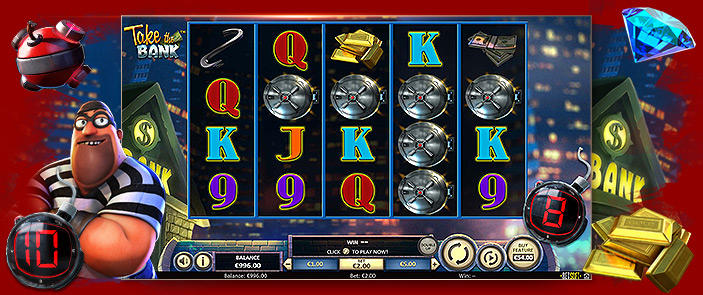 Que de surprises sont à découvrir sur la dernière machine à sous de Betsoft Gaming, qui porte sur le thème du braquage de banque. La compagnie se surpasse à nouveau en proposant de nombreux excellents jeux et toujours de très haute qualité. Ils l'ont fait une fois de plus, s'approprier un thème relativement commun pour livrer à ses utilisateurs une expérience vraiment amusante et de nombreuses combinaisons potentielles.
Le jeu casino Take the Bank dispose de 5x3 rouleaux et vous donne 75 lignes actives. Malgré tout, le maximum que vous puissiez gagner est de 225 fois la mise totale. Ce n'est pas très impressionnant à première vue, mais heureusement, vous avez entre autres, droit à un RTP à 96,08%. On vous réserve ainsi de belles promesses de gains à chaque spin. En ce qui concerne les fonctionnalités importantes qui sont incluses, elles vont des Symboles de Dispersion, aux Tours gratuits en passant par les fameux Wilds / Jokers. Les paris du jeu vont de 0,20 $ à 20 $. Quel que soit le pari sélectionné, vous obtenez les 75 lignes actives en échange.
Mettez la main sur les gains de la machine à sous de Betsoft, Take the Bank !
Point de vue design, le thème du vol de banque n'a rien de nouveau, mais il est toujours important de reconnaitre quand le travail a été bien fait et c'est le cas ici. Betsoft se débrouille extrêmement bien dans la création d'icônes sur mesure de Voleurs, Police Cars et Diamonds pour les symboles de Gros lots. Les icônes de valeur moyenne nous montrent des Lingots d'or, des Pieds de biche, des Portes de chambre forte ou encore des Bombes prêtes à exploser.
Take The Bank est considéré comme un jeu de progression dans lequel vous jouez par tours de 10 tours. Parmi les fonctionnalités incluses dans ce jeu, il y a de vraies innovations comme par exemple, les Detonate Wilds, ce qui se produisent tous les 10 tours.
Pour accéder aux 15 Free Spins de la machine à sous, vous devez disposer de 3 Scatters représentés par les Voitures de police sur les rouleaux du milieu. Le compte à rebours est mis en pause, après quoi vous commencez les Tours gratuits. Dans ce mode, vous avez 5 à 10 Epic Wilds sur les rouleaux, changeant de position après chaque tour.
La machine à sous Take the Bank, est bien à la hauteur sur le plan graphique avec un RTP de très bon niveau, il faut néanmoins reconnaitre que les meilleurs paiements sont en dessous de la moyenne des machines à sous présentes sur le marché. Malgré tout, les caractéristiques et fonctions uniques de ce slot la rendent non moins ludique et amusante. Essayez dès maintenant la surprenante démo du jeu Take the Bank ci-dessus ou misez de l'argent réel en cliquant sur le bouton JOUER POUR DE VRAI !
Galerie photos du jeu de casino Take the Bank
Informations techniques
| | | | |
| --- | --- | --- | --- |
| | Logiciel : Betsoft Gaming | | RTP : 96.8% |
| | Lignes de paiement : 75 | | Jeton minimum par ligne : 1 |
| | Rouleaux : 5 | | Jeton maximum par ligne : 5 |
| | Jeu bonus : Non | | Valeur jeton min. : 0.2 |
| | Progressive : Non | | Valeur jeton max. : 20 |
| | Symbole Wild : Oui | | Jackpot : Oui |
| | Symbole Scatter : Oui | | Tours gratuits : Oui |
| | Option jeu automatique : Oui | | Type : Machine à sous vidéo |
| | Bonus multiplicateur : Non | | Date d'ajout : 14 Novembre 2019 |