Récoltez du miel pour des bonus incroyables en argent réel sur la machine à sous The Hive !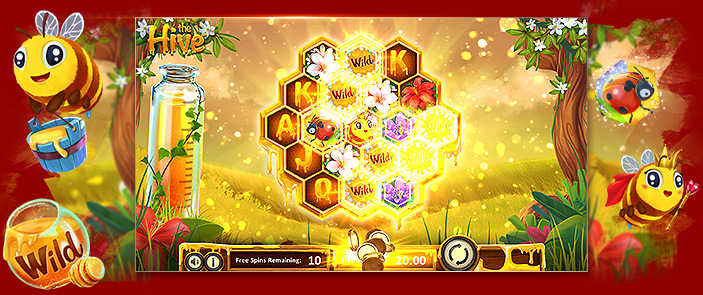 Sortie le 25 juin 2020, la nouvelle machine à sous de Betsoft nommée "The Hive" (La ruche) vous propose d'entrer dans l'univers des abeilles.
Cette machine à sous est composée de 19 cases en hexagones prenant la forme d'une ruche de petites abeilles qui pourront vous rendre riche grâce à leurs 30 lignes de paiement.
Comment jouer à la machine à sous The Hive sur mon casino en ligne préféré ?
Premièrement commencez par choisir votre mise, entre 0.10€ à 90€. Cette mise sera sans doute rentabilisée, en effet, vous pouvez récupérer jusqu'à 378 fois cette dernière grâce au RTP (Taux de retour au joueur) de 96.97% ! En plus de tout cela quelques bonus viennent s'ajouter :
• Symbole bonus Reine des Abeilles : Rassemblez les symboles bonus de la Reine des Abeilles afin d'invoquer l'essaim des abeilles qui vous offriront une multitude de bonus ! Elle peut aussi vous offrir des déclencheurs qui multiplieront votre trésorerie !
• Symbole bonus Wild : Autre symbole bonus, c'est le bonus Wild qui peut se substituer à tous les autres symboles courant (hors bonus) afin d'augmenter vos gains potentiels
• Abeilles Drones et Tours Gratuits : Tout au long de la partie, les abeilles drones rempliront une jauge présente à gauche des rouleaux. Une fois remplie la jauge lancera une phase de Tours Gratuits ! Durant cette même phase, la jauge pourra à nouveau se remplir pour avoir à nouveau des tours gratuits !
• Abeilles Ouvrières : Les abeilles ouvrières, vous permettent d'ajouter des multiplicateurs sur vos gains et ainsi cumuler les retours sur investissement pour récolter votre jackpot !
Comment puis-je jouer avec le mode argent réel de The Hive ?
C'est très simple, allez sur votre PC, mobile Android ou iOS et cliquez sur "Jouer pour de vrai" ou "Jouer en réel" pour vous inscrire et jouer sur votre casino en ligne préféré ! Misez et récupérez de larges gains !
Galerie photos du jeu de casino The Hive
Informations techniques
| | | | |
| --- | --- | --- | --- |
| | Logiciel : Betsoft Gaming | | RTP : 96.97% |
| | Lignes de paiement : 30 | | Jeton minimum par ligne : 1 |
| | Rouleaux : 5 | | Jeton maximum par ligne : 5 |
| | Jeu bonus : Non | | Valeur jeton min. : 0.1 |
| | Progressive : Non | | Valeur jeton max. : 90 |
| | Symbole Wild : Oui | | Jackpot : 1 |
| | Symbole Scatter : Non | | Tours gratuits : Oui |
| | Option jeu automatique : Oui | | Type : Machine à sous vidéo |
| | Bonus multiplicateur : Non | | Date d'ajout : 20 Juillet 2020 |