La machine à sous Dawn of Egypt de Play'n Go peut-elle vous rendre riche ?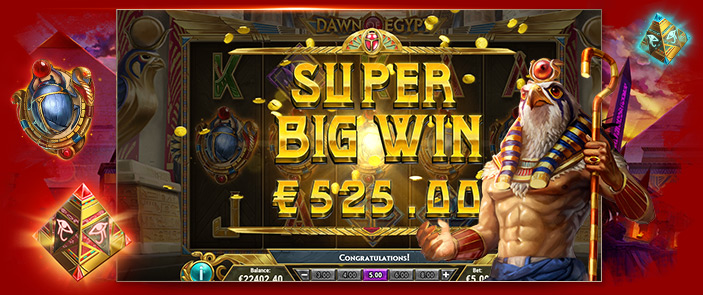 La machine à sous Dawn of Egypt™ est un jeu d'argent réel produit par Play'n Go. Vous pourrez y placer des mises d'argent sur l'une de ses 10 lignes de paiement et compter sur ses nombreux bonus pour obtenir de gros gains.
Quelle est la méthode pour gagner de l'argent réel sur le jeu de casino Dawn of Egypt ?
La technique pour gagner de l'argent réel sur la machine à sous Dawn of Egypt est très simple. Vous devez réaliser des combinaisons de symboles payants et, avec de la chance, obtenir des bonus.
Pour la partie des symboles, vous pourrez trouver comme symboles à faible valeurs : A, K, Q et J et à forte valeur une Croix d'Ankh, des scorpions, des serpents et les dieux Bastet et Horus (qui pourra payer 4, 20 ou 100 fois votre mise si vous en obtenez 3, 4 ou 5 lors d'une combinaison) !
Le symbole du scarabée est le bonus "Wild" il pourra avoir le rôle de n'importe quel autre symbole ce qui vous serra d'une grande aide pour former des combinaisons gagnantes !
Le symbole de la Pyramide quant à lui est le bonus "Scatter" qui vous permettra d'accèder aux Tours Gratuits. Il vous faudra pour cela en obtenir au minimum 3. En obtenir 3, 4 ou 5 vous permettra d'avoir un bonus de gain direct à hauteur de 5, 20 et 1 000 fois votre mise !
La machine à sous Dawn of Egypte est-elle généreuse en bonus ?
Bien sur ! Vous aurez par exemple le bonus de la Roue des Dieux : en la tournant, vous gagnerez 3, 4, 5, 6, 7, 8, 9, 10, 15 ou 20 Tours gratuits. À chaque Tour gratuit, un symbole de haute valeur est sélectionné au hasard, tous les symboles de haute valeur seront alors mis à niveau vers le symbole de haute valeur choisi. Par exemple, si Horus est choisi, tous les autres symboles se transformeront en Horus pour ce tour gratuit.
Mais également le bonus « Pyramid Spins » : Lorsque vous activez ce mode, les symboles bonus "Scatter" deviennent des bonus "Wild" et agissent en tant que tel. Vous permettant d'obtenir des gains incroyable très simplement !
La machine à sous Dawn of Egypt, est-elle un bon jeu de casino en ligne ?
Dawn of Egypt est une excellente machine à sous avec un thème qui plaît toujours autant et des bonus très excitants ! Ses potentialités de gains sont très grandes y joué est très amusant. Play'n Go propose un jeu de casino en ligne avec un RTP de 96.23% que vous pourrez essayer en mode argent ci-dessous !
Galerie photos de la machine à sous Dawn of Egypt
Informations techniques
| | | | |
| --- | --- | --- | --- |
| | Logiciel : Play'n Go | | RTP : 96.23% |
| | Lignes de paiement : 10 | | Jeton minimum par ligne : 1 |
| | Rouleaux : 5 | | Jeton maximum par ligne : 1 |
| | Jeu bonus : Oui | | Valeur jeton min. : 0.1 |
| | Progressive : Non | | Valeur jeton max. : 100 |
| | Symbole Wild : Oui | | Jackpot : 100 |
| | Symbole Scatter : Oui | | Tours gratuits : Oui |
| | Option jeu automatique : Oui | | Type : Machine à sous vidéo |
| | Bonus multiplicateur : Non | | Date d'ajout : 30 Mars 2020 |