Street Fighter II: La machine à sous Rétro-Gaming que vous attendiez !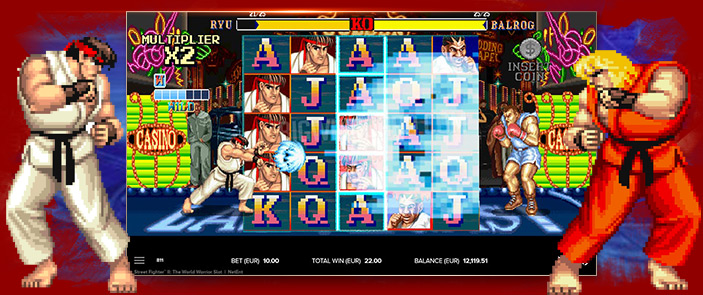 Round 1. Fight ! Que le combat commence !
NetEnt's Street Fighter II: The World Warrior Slot™ vous offre l'opportunité de faire un voyage dans le temps et de vous télétransporter dans cette salle d'arcade où vous passiez des heures dans la peau de Ryu ou Ken à essayer de battre BISON et ses acolytes.
Nous sommes en 1991, et l'un des plus grands jeux vidéo de combats de tous les temps est entrain de faire sa véritable révolution. Pour certain, c'est un souvenir très proche, pour d'autres, ils n'étaient pas encore nés :)
Dans tous les cas, cette machine à sous aux graphismes en PixelArt ne vous laissera pas de marbre.
Une machine à sous adaptée du jeu vidéo de l'époque !
Street Fighter II: Le World Warrior Slot™ est un jeu de casino au style rétrogaming se basant sur le GameDesign du jeu de CAPCOM. C'est sur une machine à sous avec 5*5 lignes de paiements que vous allez pouvoir miser.
De nombreuses séquences et fonctionnalités ont été mises en place pour recréer les émotions captivantes que nous ressentions lors de combats épiques entre amis ou face à l'ordinateur.
Street Fighter II propose des bonus thématiques
Vous aurez le choix parmi 8 combattants les plus célèbres de la license et combattrez un adversaire tiré au hasard. Si vous gagnez le COMBAT, vous obtenez des tours gratuits - Beat the Boss (Battre le Boss).
Il y a 4 niveaux de Boss disponibles lors des séquences de tours gratuits (free spins). Chaque niveau offre un multiplicateur plus élevé. Ce n'est qu'en battant un Boss que vous pourrez accéder au niveau suivant. Chaque victoire augmente vos chances de gagner de l'argent. Continuez à combattre vos adversaires jusqu'à ce que vous rencontriez le Boss final lui-même… M. Bison!
Ce jeu de casino est remplis de symboles Wilds et on en redemande. Chaque symbole de grande valeur dans une combinaison gagnante vous fera gagner un point. Collectez 7 points ou plus, et la fonction Wild Combo s'activera, plaçant au hasard des symboles Wild sur les rouleaux et vous donnant ainsi une chance de gagner le jackpot ou du moins une grosse mise de cash!
Un jeu bonus caché vous permet de contrôler votre personnage comme dans le jeu vidéo original !
Vous vous souvenez de la séquence de jeu pendant laquelle Ruy devait fracasser une voiture à coup de poings et de kicks ? Et bien, c'est reparti mais cette fois pour gagner beaucoup d'argent car cette machine est bien chanceuse !
Il est temps de répondre enfin à la question: qui est le meilleur Street Fighter ? mais surtout qui est le plus gros gagnant en mode ARGENT REEL !
Galerie photos de la machine à sous Street Fighter II: The World Warrior
Informations techniques
| | | | |
| --- | --- | --- | --- |
| | Logiciel : NetEnt | | RTP : 96.06% |
| | Lignes de paiement : Cluster Pays (5*5) | | Valeur jeton min. : 0.20€ |
| | Rouleaux : 5 | | Valeur jeton max. : 700€ |
| | Jeu bonus : Oui | | Jeton min. : 1 |
| | Progressive : Non | | Jetons max. : 5 |
| | Symbole Wild : Oui | | Jackpot : Oui |
| | Symbole Scatter : Oui | | Tours gratuits : Oui |
| | Option jeu automatique : Oui | | Type : Machine à sous vidéo |
| | Bonus multiplicateur : Oui | | Date d'ajout : 14 Mai 2020 |