Ouvrez la porte du caveau d'Anubis et récoltez d'énormes gains en argent réels !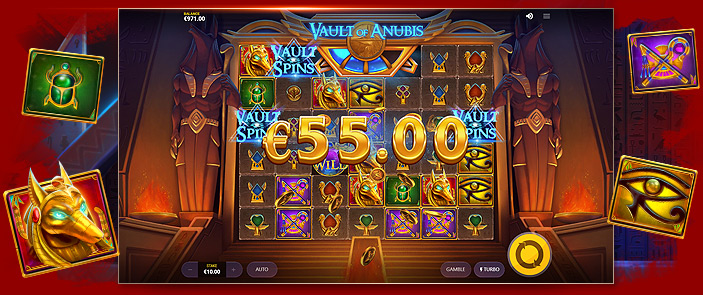 Direction l'Égypte Antique avec Vault of Anubis, une machine à sous en ligne Red Tiger !
Sortie en mars 2020, ce jeu est très récent et embarque évidemment toutes les technologies de base des jeux actuels vous permettant de jouer sur le support que vous souhaitez !
Ce jeu par avalanche change un peu des derniers jeux sur le même thème que nous avons pu voir dans nos précédente review ! Sur ses 7 rouleaux pour 6 lignes se trouvent à la fois un trésor d'argent et un trésor de gameplay !
Vous pouvez gagner jusqu'à 5000x votre mise. Rassemblez 5 symboles identiques pour obtenir vos gains ! Il faut évidemment que ces derniers soient collés les uns aux autres !
Les bonus de la machine à sous Vault of Anubis
• Le Respin :  Lorsque 5 symboles de même type sont rassemblez-vous pouvez empocher vos gains ! Les symboles finissent par disparaître et enclenche le respin en faisant tomber en avalanche de nouveau symboles pour peut-être vous mener vers une victoire à nouveau et de larges gains !
• Super Symboles et Wild :  Les super symboles sont des symboles courant à forte valeur qui ont grossit pour arriver à la taille de 2x2 ou 3x3 ! Ils peuvent évidemment être combiné avec leurs propres symboles pour générer des gains ! Ils arrivent aléatoirement sur les roues ! Le jeu possède aussi des symboles Wild qui peuvent se substituer à n'importe quel autre symbole courant (hors bonus, donc)
• Tours Gratuits et Symboles bonus Vault (Scatter) : Les symboles Vault sont les symboles bonus Scatters du jeu, ils vous permettent, si vous en rassemblez 4, de déclencher les Tours Gratuits ! Durant ces tours gratuits, chaque gain fait augmenter le multiplicateur pour des gains incroyables ! Le multiplicateur est d'ailleurs infini et ne s'arrête que lorsque les tours gratuits sont terminés ! Pour empêcher leur fin rassemblez d'autres symboles Scatter afin d'augmenter toujours plus le nombre de tours !
Cette machine à sous est rentable ?
Absolument, Red Tiger vous permet de jouer avec de l'argent réel en misant de 0.20€ à 100€ et comme je l'ai dit plus haut, vous pouvez multiplier vos gains par 5000 avec un RTP de 95.74%, je vous conseille littéralement de foncer pour y jouer !
N'attendez plus et cliquez sur "Jouer pour de vrai" pour vous inscrire et remporter le gros lot !
Galerie photos de la machine à sous Vault of Anubis
Informations techniques
| | | | |
| --- | --- | --- | --- |
| | Logiciel : Red Tiger Gaming | | RTP : 95.74% |
| | Lignes de paiement : 3 | | Bonus multiplicateur : Oui |
| | Rouleaux : 5 | | Pari min. : 0.2 |
| | Jeu bonus : Non | | Pari max. : 10 |
| | Progressive : Non | | Jackpot : 750 |
| | Symbole Wild : Oui | | Tours gratuits : Oui |
| | Symbole Scatter : Oui | | Type : Machine à sous vidéo |
| | Option jeu automatique : Oui | | Date d'ajout : 8 Avril 2020 |